10 claves para hacer de tu fiesta de lanzamiento del disco un éxito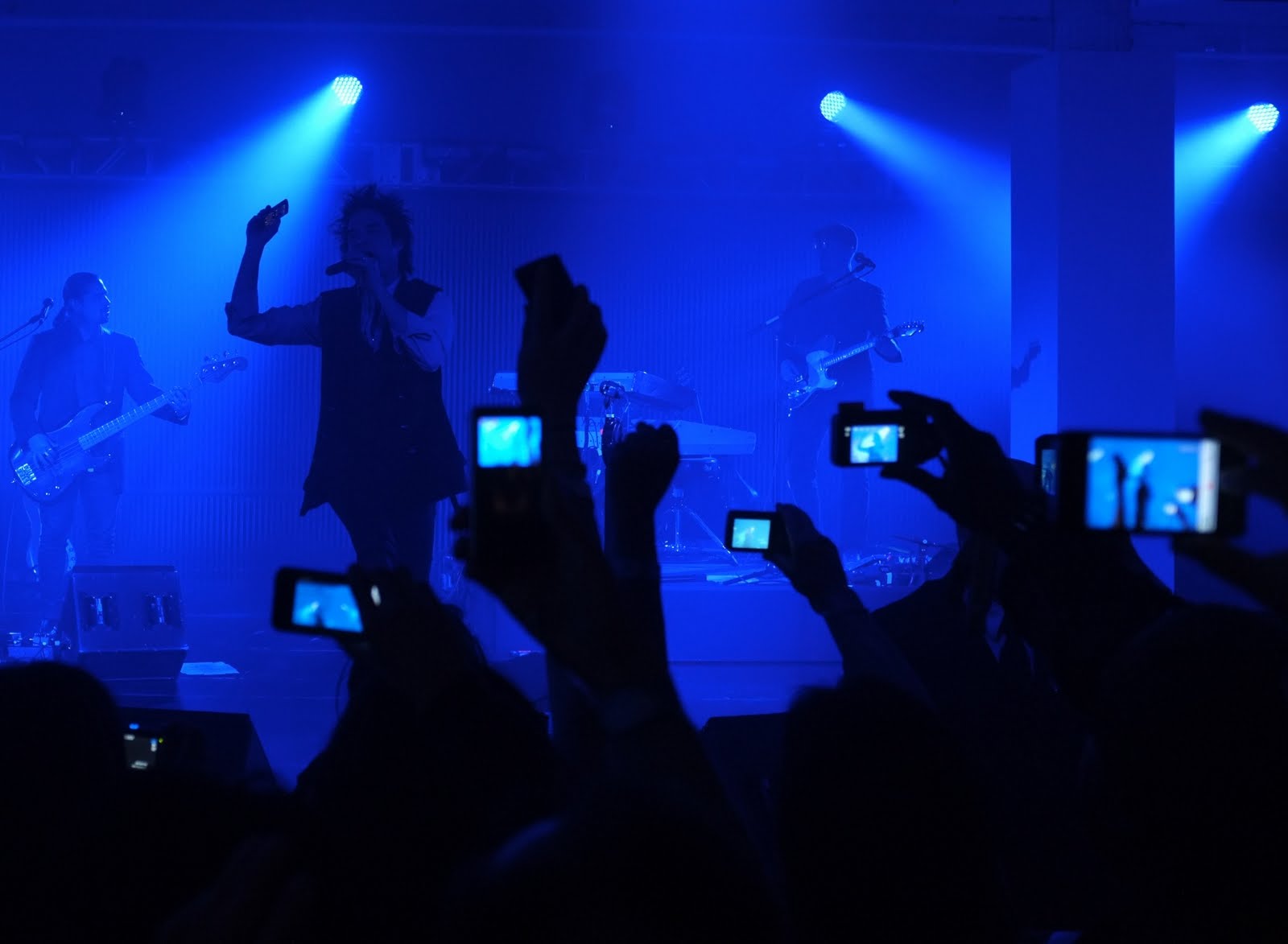 Usted acaba de dejar el estudio grabando las notas finales de su álbum,

There's the mixing and mastering process for your producer to take care of and the artwork for your album and any merchandise to do—but the real deal is when all of this comes together and you officially release your album at a CD release party,

a

hí empieza el proceso de mezcla y masterización de su productor, el arte del álbum y diseño de mercancías, pero el verdadero negocio es cuando todo esto se junta y oficialmente se hace la fiesta de lanzamiento del CD.

El éxito de una fiesta de lanzamiento de CD se basa enteramente en lo bien que se prepare.
There are many key areas that make it successful that I will discuss below, but to keep it short and sweet I would say the most important things are: be in tip-top shape and form musically when you perform, give lots of lead time to get it ready, have your album ready in CD and digital form on the day of your show, and ask for help when you need it.
Hay muchas áreas clave que harán de la fiesta un éxito, a las cuales me referiré más adelante, pero siendo breve y dulce, yo diría que las cosas más importantes son: estar en plena forma musical, esperar para tenerlo todo listo, tener su álbum en CD y formato digital para el día del show, y pedir ayuda cuando la necesite.
I most recently went through this process and while some things were tedious, when my big night finally came, it turned out to be everything I wanted it to be for my fans.
R
ecientemente pase por este proceso y, aunque algunas cosas eran tediosas, cuando mi gran noche finalmente llego, resultó ser todo lo que yo quería que fuera para mis fans.
I spent a good three months putting my CD release party together.
Pasé unos buenos tres meses montando mi fiesta de lanzamiento y el disco juntos, esto
That's not to say yours will take
no quiere decir que el suyo se llevará todo ese tiempo,
Depending on what you want to do may shorten or lengthen how long it can take.
dependiendo de lo que quiera hacer puede acortar o alargar el tiempo que tomará.
But looking back on those three months, these are the 10 key things to do to have a successful CD release party.
Pero mirando hacia atrás en esos tres meses, estas son las 10 cosas más importantes que hay que hacer para tener una fiesta de lanzamiento de CD con éxito.
1.Start thinking about an approximate date.
1. Inicie pensando en una fecha aproximada.
This is the hardest part.
Esta es la parte más difícil,
I have seen musicians book a CD release party only to have booked it too soon and not have their album done in time.
he visto músicos reservando una fiesta de lanzamiento de CD muy pronto sin tener su álbum a tiempo,
The last thing you want to do for your fans, a venue, and yourself is having to cancel the show or having it without your album to sell (which looks really bad).
la última cosa que quieres hacer por tus fans es invitarlos a un sitio donde será el lanzamiento y tener que cancelar el show o que su álbum no este a la venta (esto se ve muy mal).
It goes without saying that there are many things, some out of your control, that could effect the date.
No hace falta decir que hay muchas cosas que se salen de su control y que podrían afectar la fecha, para esto l
as cosas a tener en cuenta son:
- El horario de los productores para la mezcla y masterización (puede ser de unos pocos días hasta varios meses)
- the time it takes to get your artwork done (depends on what you'd like done)
- El tiempo que tarda en terminarse el arte del disco (depende de lo que le gustaría hacer)
- the time it takes for a CD processing company to press and send you the copies (leave at least 6 weeks for)
- El tiempo que le toma a una compañía de procesamiento de CD para prensa y envío de las copias (intervalo de por lo menos 6 semanas)
- processing time if you're putting you album up on digital download services (iTunes, Amazon, etc) (varies by service, but leave 6-8 weeks)
- El tiempo de procesamiento si es que le pone el disco en los servicios de descarga digital (iTunes, Amazon, etc) (varía según el servicio, pero es de 6-8 semanas)
- time for your merchandise to be created, produced, and shipped (depends on what you have)
– El tiempo para que la mercancía esté lista, producida y enviada (depende de lo que tiene para realizar)
- finding a venue that will allow you to have the event (venues vary, but openings may be 2-3 months away)
- Encontrar un lugar que le permitirá hacer el evento (los lugares varían, pero las reservas pueden ser de 2 a 3 meses de distancia)
I don't want to give a specific suggestion for how far out to set the date, but I set mine three months out.
No quiero dar una sugerencia específica del tiempo para fijar la fecha, pero yo puse la mía a tres meses, yo creo que un mes es demasiado corto
So something beyond that.
, así que algo más allá de eso estaría bien.
2.
2.
Find a venue.
Encuentre un lugar.
You have choices for a venue.
Usted tiene muchas opciones para un lugar,
Where I am in the Washington, DC area, I considered going to a top music venue for the name, set up they had, and all that—but really what I decided at the end of the day was to work with one wh
c
uando estoy en el área de Washington DC, consideré ir a un local de música de alto nombre, pero realmente lo que decidí al final del día fue trabajar con alguien que me conociera,
I did not want the added stress of having to pull it off with a venue who did not know me or who were not going to do much to support me.
no quería la tensión añadida de tener que llevarlo a cabo en un lugar que no me conocen o que no se va a hacer mucho para apoyarme, a
So go with a venue where there is mutual trust, who could go the extra mile if as
sí que vaya a un lugar donde haya confianza mutua y donde podrían hacer un esfuerzo adicional si se les pide.
Whatever route you go though, take a look at their schedule first in order to suggest some dates.
Sea cual sea la ruta que escoja, eche un vistazo a su calendario por primera vez con en el fin de sugerir algunas fechas, a
Make sure you know how to set up the stage at the ve
segúrese de saber cómo montar el escenario en el lugar,
Find out if you are going to have to charge at the door, sell tickets, or if it's free.
averigüe si usted va a tener que cobrar en la puerta, vender entradas, o si es gratis, averigüe si ya han tocado antes ahí, esto para saber que hacer al momento de tener el lugar.
3.
3.
Get opening acts ASAP.
Obtener actos de apertura lo antes posible.
This is not required at a CD release show, but it's always nice to have some of your fellow musicians supporting you.
Esto no es necesario en un show de lanzamiento de CD, pero siempre es bueno tener algunos músicos antes de usted,
And you should realize, like yourself, they probably have other gigs lined up in advance—so once you know when your CD release show is—ask them if they're open that dat
y debe darse cuenta, que probablemente tienen otras actuaciones alineadas con antelación, de modo que cuando tenga su programa de lanzamiento, pregunte si están libres a esa fecha.
I reached out to four or five people who either couldn't or were not sure about the date before I found two acts who confirmed.
Yo me acerqué a cuatro o cinco personas que, o bien no podían o no estaban seguros acerca de la fecha antes de encontrar dos actos que confirmaron.
Make sure you treat your opening acts well, promote them with your show, allow them to sell merchandise, and offer to buy them dinner or drinks for their time.
Usted debe asegurarles, promoverlos con su show, permitirles vender su mercancía, y ofrecerles comida o bebidas.
4.
4.
Send out invitations when the venues and opening acts are confirmed.
Enviar las invitaciones cuando el lugar y los actos de apertura confirmen.
The day I confirmed everything I put my Facebook invite together.
El día que me confirmó todo lo puse en mi Facebook invitando a todos juntos.
Your fans probably live busy lives and you want them there, so just get yourself on their schedule sooner than later.
Tus fans probablemente viven vidas muy ocupadas y quieren estar allí, así que usted debe llegar a ellos más temprano que tarde.
Why wait?
¿Por qué esperar?
You'll probably be so excited anyway that you'll want to tell the world about your big day anyway.
Probablemente va a estar muy emocionado y quiere decirle al mundo acerca de su gran día de todos modos.
5.
5.
Start practicing.
Comience a practicar.
For me this was different, because I play solo, but had a full band for my CD release show.
Para mí esto era diferente, porque toco en solitario, pero tenía una banda completa para mi programa de lanzamiento del CD, d
Either way, you've got to have your songs down for the big night.
e cualquier manera, tiene que tener sus canciones fuera de servicio para la gran noche,
No half-assing it or cutting corners.
usted es músico, se le aprecia por su música, así que haga un programa en conjunto y trate de darles una gran impresión.
6.
6.
Get people together to help you out at your CD release party.
Reunir a la gente que ayudará en su fiesta de lanzamiento.
On the night of your show, you should be there to meet and greet, play your music, and get your fans excited about your latest album.
En la noche de su programa, usted debe estar allí para conocer, saludar, reproducir su música, y recibir sus fans entusiasmados con su último álbum, e
That's it.
so es todo.
Do you really want to deal with other issues like sound, lighting, the merchandise table, photos, and so on?
¿Estás seguro que quieres hacerle frente a otras cuestiones como el sonido, la iluminación, la mesa de mercancías, fotos, y así sucesivamente?
If you have a street team or fans/friends you trust, ask them to help you out.
Si usted tiene un equipo de calle (Street Team) o amigos de confianza, pídales que le ayuden.
This is corny, but I literally wrote down what I'd need help with and came up with job descriptions for each area of help.
Esto es cursi, pero literalmente escribí lo que iba a necesitar e hice descripciones de puestos para cada área donde necesitaba la ayuda, e
I then emailed a bunch of people and said, what would you like to help with and gave them job descriptions to help them decide
ntonces envié invitaciones por correo electrónico a un montón de personas diciéndoles, ¿qué si les gustaría ayudar? y les di las descripciones de los puestos para ayudarles a decidir, u
Once everyone was on board, I tried to meet with my team as a group to explain everything and answer any questions they ha
na vez que todos estaban a bordo, traté de trabajar con mi equipo como un grupo, explicar todo y contestar cualquiera de sus preguntas.
Appreciate your team was my number one rule.
Tuve una cena casual con la gente para conocernos, me reuní con todos y pagué por los alimentos y bebidas,
les di un CD gratis y una camiseta antes del espectáculo (y les pedí usar la camiseta en el show). Y l
I thanked them from the stagel
es di las gracias desde el escenario.
I was lucky and had no issues with them during the release party, which took a load off of my mind.
Con mucha suerte no tuve problemas con ellos durante la fiesta de lanzamiento, quitando un peso de encima de mi cabeza.
Here are some roles people can play at your release party:
Éstos son algunos de los papeles que la gente puede hacer en su fiesta de lanzamiento:
- manning the merchandise table
– Encargado de la datación y venta en la mesa de mercancías.
- actively greeting people in the crowd and getting their email (I gave a sample cd to those who signed up)
– Recolector de correos: saludar a la gente y lograr que inscriban sus direcciones de correo (dar una muestra del disco a los que se inscribieron)
- sound man (if venue does not provide one)
- Técnico de sonido (si el lugar no ofrece una opción)
- photographer
- Fotógrafo
- videographer
- Camarógrafo
7.
7.
Announce your show in the local media.
Anuncie su espectáculo en los medios de comunicación locales.
I did a very bad job of this as my album was pressed just 2 weeks before the show, which did not give press time to devote to me.
Hice un trabajo muy malo en esto, como mi álbum fue prensado a tan sólo 2 semanas antes del show, no pude hacer bien las invitaciones de medios.
But do your best to announce the show to the local media.
Por eso busca lo mejor para anunciar el espectáculo a los medios de comunicaciones locales,
Newspaper, radio, bloggers, podcasters—invite them all.
prensa, radio, bloggers, podcasters, hay que invitarlos a todos.
Send them the cd, or even a link to your album.
Enviarles el Cd con anticipación, o incluso un enlace a su álbum.
Have a press release written up (if you can't write one yourself, hire somebody, I had to).
Tener un comunicado de prensa escrita es importante, y aunque
There's no guarantee you'll get any coverage, but if you do, it's nice to have.
no haya garantía de que obtendrá algún tipo de cobertura, hacerlo es muy bueno.
8.
8.
Get your fans excited.
Conseguir que sus fans salgan emocionados.
I don't know your fans, you do, so you should know what will get them talking about your CD release party.
Usted debe saber que va a conseguir que sus fans hablen de su fiesta de lanzamiento, por supuesto que al anunciar el show, ellos hablaran y esto puede ser interesante en sí mismo, pero usted puede hacer algunas otras cosas,
Maybe have a contest around your release party.
tal vez un concurso en torno a su fiesta de lanzamiento, h
Get them involved in some way other than inviting them
acer que se involucren de alguna otra manera a la invitación.
Some things I did was show my fans the album artwork and my merchandise on social media—they got to see what I was going to sell.
Algunas cosas que hice fue mostrar el resultado a mis fans de la portada del álbum y la mercancía en las redes sociales y todo lo que tiene que ver con lo que iba a vender, puse una canción del álbum para descarga gratuita, dos meses antes del show,
The last thing was something I borrowed from NPR's First Listen program—I put my album up online (in many spots) a week or so before the release party and let fans listen to it before they bought i
pongo mi álbum en línea (en muchos lugares) una semana antes de la fiesta de lanzamiento y dejar que los fans lo escucharan antes de que lo compren,
They also got to know the songs I was going to play that night.
también di a conocer todas las canciones que iba a tocar esa noche, n
Nothing beats an audience who sings with your songs
ada es mejor que un público que canta sus canciones.
9.
9.
Make Purchasing Your Album and Merchandise Easy.
Hacer fácil la compra de su álbum y de mercancías.
At your CD release show, you should have CDs available.
En su programa de lanzamiento, usted debe tener CDs disponibles, pero algunas personas no compran discos compactos, así que asegúrese de usar un servicio para obtener su álbum hasta en iTunes, Amazon, Rhapsody, Napster y todos estos lugares de venta de música digital.
The three to look into are
Tunecore
,
CD Baby
, and
ReverbNation
.
Los tres a estudiar son
TuneCore
,
CD Baby
y
ReverbNation
It's also good to have your online store ready by the day of your release party.
También es bueno tener su tienda en línea lista para el día de su fiesta de lanzamiento,
Word may get around that your album is great.
El mundo entero puede enterarse de que su disco es genial, d
Give people the option to buy directly from you
e
le a la gente la opción de comprar directamente de usted,
My online store uses Paypal, but I also looked at
Nimbit
,
Topspin
, and
Bandcamp
as other options to sell my music and merchandise online
mi tienda en línea utiliza PayPal, pero también tengo
Nimbit
,
Topspin
y
Bandcamp
como otras opciones para vender mi música en línea y las mercancías.
10.
10.
Learn from other musicians.
Aprender de otros músicos.
You don't have to reinvent the wheel.
Usted no tiene que reinventar la rueda, m
My CD release party was the first one I ever did, and I didn't want to do it blindly
i fiesta de lanzamiento fue la primera que he hecho, y yo no quería hacerla a ciegas, así que le pregunté a otros músicos en busca de consejo, esté abierto a preguntar, la gente le dirá un montón de cosas de que no debe hacer, y es a veces más importante que lo que debe hacer.
Note: This is certainly not a full on list of everything you need to do, so if you have suggestions, advices or feedback, please send a comment to add to the discussion.

Nota:

Esta no es ciertamente la lista completa de todo lo que tiene que hacer, así que si usted tiene sugerencias, consejos o comentarios, favor comentar para agregar a la di

scus

ión.

Fuente